If the weather hasn't said it yet, then the calendar will soon enough! Yes, the middle of July usually marks the middle of the summer, but thanks to the recent lifting of shutdown and Stay-at-Home orders. This year, July marks the start of summer! A time filled with fun activities like camping, cookouts, and much more. This summer may not turn out as you'd expect, especially with states' current Stay-at-Home orders, but we still have four months of great weather ahead of us. Who knows what the rest of summer 2020 will have in store for us? Especially with some states are ready planning on reimplementing some restrictions on parks and public gatherings. Thus, it's important to still plan ahead when it comes to your branding and marketing. In the spirit of planning ahead, today's blog post will introduce you to some new and popular promotional items that are sure to make your brand stand out. Although these are all great options, the best promo item for you all depends on your brand, so this list is in no particular order or ranking. If you see any items that you like, feel free to reach out to your ICC Client Support Specialist or contact us at branding@iccbpi.com.
#1

Reusable Face Masks
Order Minimum: 100
I know I said no particular order but the way 2020 has been going, you could have guessed that face masks were going to be the top of our list. Especially if you can get them branded with your organization's logo. I say organization because this product has been ordered by schools, governmental offices, philanthropies and businesses alike. Whether you like it or not, Face Masks are here to stay. With schools preparing to open and national chains like Walmart requiring masks for all of their customers, it is clear that Face Masks are a key part of the life after COVID-19. You can keep it simple and cost effective with a 1-Color imprint, or you can put your creativity to the test with Full Color Sublimation. Full Color Sublimation is a computer printing technique which uses heat to transfer dye onto materials such as a plastic, card, paper, or fabric. Allowing you to have photorealistic imprints. I find that the more fun or stylish a mask is, the more likely to wear it. That was the thinking behind one of my clients who is a major school corporation. I worked with them to create cool custom camo patterns using their school colors. I'm sure their students and staff will be thrilled to wear them once the semester starts!

#2

Mask Extender Ear Protection
Order Minimum: 250
If you have "enjoyed" the experience of wearing a mask for an 8-hour shift or even longer, then you know the pain of having elastic dig into your ears. Most face masks you see on the market today strap around your ears with an elastic band of some sort. Although this makes the mask convenient for the short trips here and there, this band starts to irritate your skin after a while. Luckily the Mask Extender is designed to take care of this very issue. The soft, flexible TPR material with notches allows you to adjust your mask to fit as need. Removing the "one size fits all" aspect of face masks while also saving your ears! The main selling point to this product is that it virtually works with any type of face mask, even the disposable ones!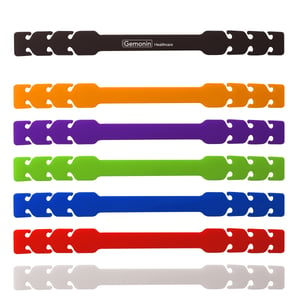 #3

Antibacterial Door Opener Stylus
Order Minimum: 250
Unlike most variations of this handy little tool, ICC offers the Door Opener Stylus with Antibacterial Additive applied during the production cycle to ensure efficacy. Designed to keep you touch-free throughout your day. Easily attachable to a keychain with its built-in key ring. This device can be used to either open doors, push elevator buttons, and even works as a stylus or on most touch screen devices. The stylus especially comes in handy, if you take your phone in the restroom with you then just imagine how much germs are probably on it. Great for the cold and flu season, but especially great for the current COVID-19! Just like the rest of the items on this list, you can also personalize these with you company's logo.
#4

Antimicrobial Pens
Order Minimum: 500
I will be the first one to admit that there is plenty of debate over the value of a pen as a branded item. On one hand, almost every company has a pen of some kind and thus everybody has a collection of free pens at home from various companies, never touched or used. However, a lot of businesses like doctors' offices, delivery drivers, banks, restaurants, etc. still use pens in their day-to-day operations. If your business is one that uses pens, specifically when interacting with customers, then it only makes sense to have those pens branded. BIC offers a ton of pens but none of them are as timely as their new antimicrobial revamps of two classic designs. ICC offers the BIC Round Stic and BIC Clic Stic with PrevaGuard - protecting the pen by suppressing the growth of bacteria, algae, fungus, mold and mildew on the pen. Great for the cold and flu season, but especially great for the current COVID-19. I have already picked up a few carryout orders where the pens were sitting in a jar of isopropyl alcohol. It may have done the trick but these pens are a lot less messy.

#5

Wrap-It Wireless Charger
Order Minimum: 25
Our next item takes advantage of the new charging seen in today's most popular smartphone brands. I'm talking of course about wireless charging. If you have ever had to untangle some headphones, then you probably could have guessed that they were going to make wireless headphones. But who would've guessed that wireless charging was ever going to be a thing? Regardless, the future is now and wireless charging is here to stay. In other words, if you are a tech company or just want a promo item that you know will be cherished, then the Wrap-It Wireless Charger is a must-have for your marketing. I say must-have because the technology is still fairly new. So even though someone may have a phone capable of using a wireless charger, odds are that person does not have an actual charger yet. I myself had my phone for a whole year before I finally got my wireless charger in our company's gift exchange. That being said, I have used it every day since! I specifically chose the Wrap-It because of its portability.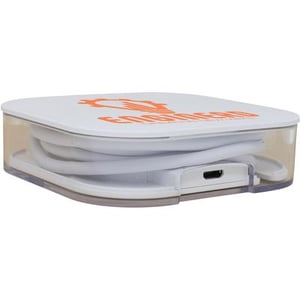 The fact that you can wrap this item and its chord up into a convenient carrying case only adds to its usefulness. It is a little pricier than the other items on our list, but it might just make the biggest impact on your client. Yet with a minimum order quantity of only 25 pieces, you can get this item without breaking the bank.
#6

Sip & Snack Reusable Kit
Order Minimum: 100
Another branding option that keeps up with the changing habits of our world is the Sip & Snack Reusable Kit. Earth Day may be over but the Green Movement in America is just getting started. Water Bottles and Tumblers may have led the way in terms of reusable food products, but now even straws are being made to be reusable! Perfect for bringing your lunch to the office or even camping in the outdoors. The Sip & Snack Reusable Kit offers a collapsible metal straw, wired cleaning brush, bottle opener, reusable utensils, all of which are stored nicely in a travel case with carabiner attachment. Whether clipped on to a lunchbox, purse, or even backpack, you can be sure that your logo will be displayed reminding your customers of your own green initiatives. If the kit is too much, then fear not as ICC also offers the collapsible straw as its own separate kit.

Still with your logo on a convenient carrying case, and most importantly, still with the wired cleaning brush. I cannot stress how disappointing it is to receive a reusable item of any kind that is not easy to clean. I even have started to avoid certain water bottle brands as their nozzles are difficult to clean and can even form mold after extended. However, the wired cleaning brush makes cleaning this straw a breeze! Something that will only increase the odds of it getting used. I have been to quite a few trade shows throughout the years so I have seen many trash cans filled with unwanted promo items. That's why it is important that you choose an item that people will truly want to keep.
#7

Luxury RFID Wallet and Phone Holder
Order Minimum: 100
Circling back to smartphones, this next item is a more elevated version of a classic promo item. Unlike the typical silicon phone wallets or plastic phone stands the Luxury RFID Wallet and Phone Holder is truly a cut above. Made of Leatherette, this phone wallet has more of a stylish look and professional feel. Don't get me wrong, the idea of having cards on the back of your cell phone sounds like an easy sell. However, I have noticed that people are still hesitant to put a cheap silicon

phone wallet or stand on their phones. This is because our cell phones are something that we cherish deeply. In some ways they are an extension of our personalities. People take great pride in the type of phone they have, which case they use, or even if they use a case at all. This probably explains why the silicon phone wallet seems to be a frequent flyer in the trade show trash can. Something you won't have to worry about with this premium option.
#8

Credit Card Style Insect Repellent
Order Minimum: 150
I said no particular order but I had to end on a summertime classic. This is the "8 Hot Promo Items for the Summertime" after all, and this next item is one that is big every summer. I'm talking of course about insect repellent. Yes, bugs are unfortunately a staple of any outside summer activity, but I see that as a positive. I say this because everybody hates bugs but not everybody thinks to use bug spray. Luckily the credit card shape of this Natural Insect Repellent allows it to easily fit into your pocket. Allowing for convenient use and storage. Our DEET Free Insect Repellent formula is safe to use on children while still repelling mosquitoes, ticks, flies, gnats and no-see-ums. I also recommend insect repellent over sunscreen as a giveaway since it is able to be universally used and shared. Take it from a redhead with fair skin, not everybody can get away with using SPF 30 sunscreen.
That wraps up another list for ICC, did we forget any of your favorite summertime promo products? If so, please share which branding items you like the best in the comments below. Keep in mind that no matter what your business is, it pays to market it! These are some great starting out options but the best promo item is one that fits your brand!
Still in the mood for reading? Check out our blog to read other interesting lists and insights into the business world. Needing to do some work of your own? ICC's online catalog has everything you need to run your business, even personalized branding products!