As the COVID-19 outbreak continues to spread through America, communities are joining together to help "Flatten the Curve" by staying at home. Odds are you either have been working from home or you are about to start doing so. Today's blog post helps get you through your day at home as Paul Schiffman gives you a list of office themed movies to help pass time and reminisce about your old work place.
Indiana Governor Eric Holcomb gave a new address updating plans to reduce the spread of COVID-19 ordering Hoosiers to stay at home. Meaning that from March 25th to at least April 7th, Hoosiers will be joining other Americans in the practice of Social Distancing at home, except for a few exceptions. Although this was a surreal announcement to hear, it was one that should have been expected as other states have been already implementing similar decrees. Additionally, many companies have already asked employees to work from home, something we discussed in the previous blog post. However, now Americans must not only work at home but also spend their free time there as well. Working and living in the same place really makes the days blur together. Especially when you are no longer driving to work anymore. My apologies for informing you that your office plant is probably needing some TLC in your absence. Thanks to the COVID-19 outbreak, it appears that we all will not be going back to the office for a while. During times like this it is easy to get caught up in all the gloom and uncertainty so today's post will attempt to bring some joy to your day as well as give you a list of office themed movies to help pass the time reminiscing of the workplace. I may be a cinema fan but I am definitely not a movie critique so this list is in no particular order or ranking.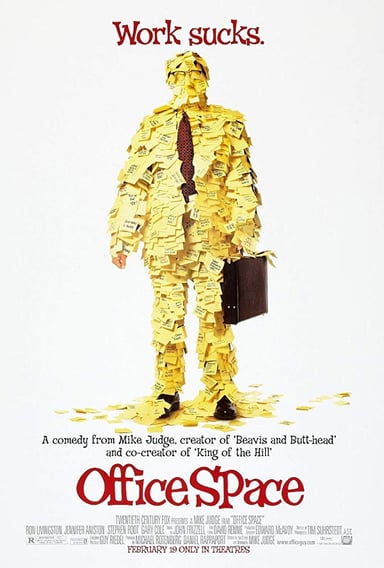 1. Office Space (1999)
Comedy - R Rating
With a runtime of 1 hour and 29 minutes this classic workplace comedy will keep you laughing as it follows the rise and fall of Peter Gibbons, played by Ron Livingston, and his 2 best friends' scheme to embezzle from their office. This movie truly dives into the Cubicle Life as it is filled with relatable scenarios and hilarious one-liners. Plus, who doesn't love to see John C. McGinley playing a role similar to his one as Dr. Perry Cox on the TV series "Scrubs?" Although it originally was not well received by audiences, making only $12.8 million at the box office, it has become a cult classic that I am sure you will enjoy!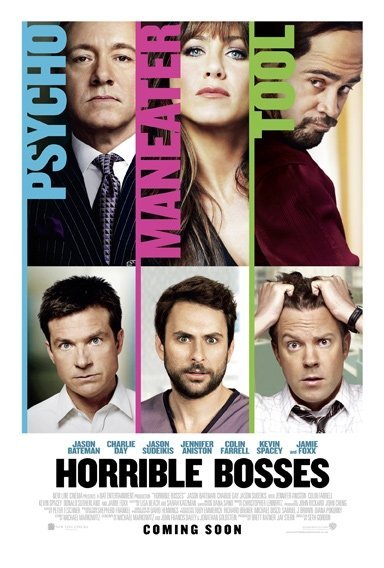 2. Horrible Bosses (2011)
Comedy - R Rating
Sticking with the theme of three friends teaming up to get revenge on their employers, Horrible Bosses is a 1 hour and 38 minute saga of a group of friends conspiring to kill their bosses. Filled with a star studded cast featuring Jason Bateman, Charlie Day, Jason Sudeikis, Jennifer Aniston, and even Kevin Spacey. This comedy does a good job of balancing screen time between all of its heavy hitters, but more importantly, it also has a funny and fresh screenplay. Something that commonly gets forgotten whenever a movie has a noteworthy cast. As a bonus entry, the sequel holds its own enough to also warrant a watch.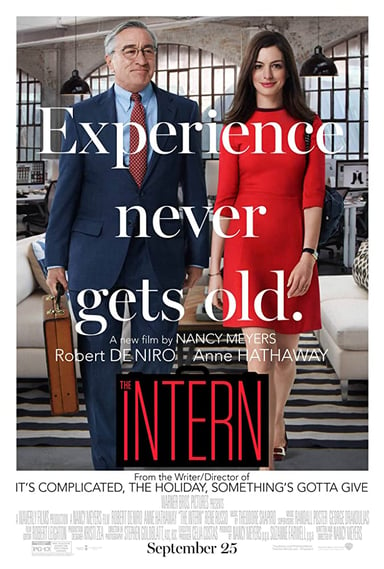 3. The Intern (2015)
Comedy, Drama - PG-13 Rating
They say laughter is the best medicine but sometimes you need some feelings and life lessons to give some substance to your comedies. Although it still has its funny moments "The Intern" starring Anne Hathaway and Robert De Niro hits a little closer to the heart than the last two movies on this list as it follows the relationship between a demanding CEO played by Hathaway and her newly appointed Intern played by De Niro. Obviously this makes for an odd companionship as De Niro is not the age of most interns. However as the movie progresses you see that De Niro is truly not like most interns as he teaches Hathaway a few key life lessons.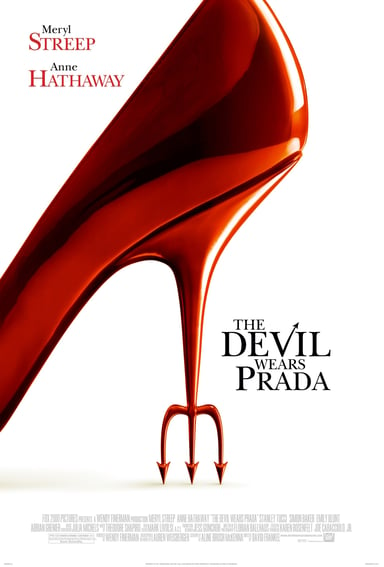 4. The Devil Wears Prada (2006)
Comedy, Drama - PG-13 Rating
If you did not like watching Anne Hathaway be the bully boss in "The Intern" then you might like when the shoe is on the other foot as she plays the role of a new graduate who just landed the dream job as an assistant to Miranda Priestly (Meryl Streep), the demanding editor-in-chief of a high fashion magazine in "The Devil Wears Prada." You could argue that this movie is not your typical workplace but hey, office workers are not the only ones staying at home during the COVID-19 outbreak. Not to mention that this cautionary tale about the importance of work-life balance holds true no matter what your industry might be. Additionally, my wife would be upset if I did not inform you that the book of the same name is actually better than the movie. Just in case you wanted to cut down on your daily screen time.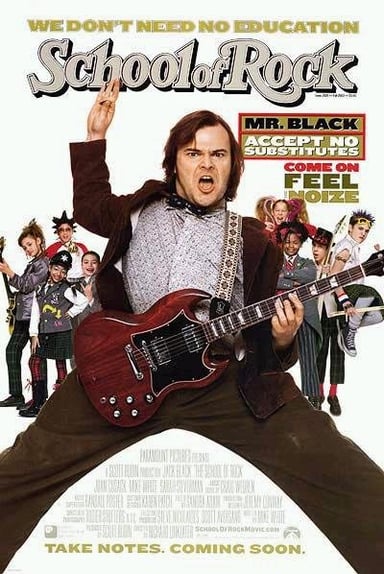 5. School of Rock (2003)
Comedy, Musical - PG-13 Rating
Another entry for those of you who don't work in your typical office, "School of Rock" stars Jack Black as a substitute teacher for a prim and proper elementary private school. What starts out as just a scheme for Black's character to scrape together some quick cash, turns into a rock filled coming of age story. As Jack Black's character sharpens the musical talents of his students and gives them the confidence to do more than just play in a band. The hijinks and jokes are enough to carry the film through its 1 hour and 49-minute run time, but the original songs are truly the cherry on top.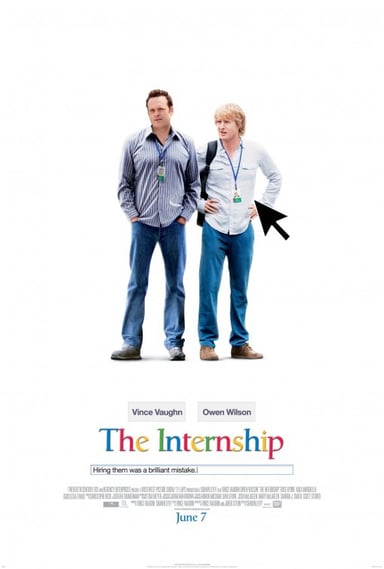 6. The Internship (2013)
Comedy - PG-13 Rating
A similar premise to another entry on this list so much so that the titles are practically the same, "The Internship" starring Vince Vaughn and Owen Wilson focuses more on the laughs rather than feelings. The movie, which is also written by Vaughn, focuses on two retired salesmen as they participate in Google's Internship program. Given that Google is not your typical company, this unusual internship puts Wilson and Vaughn to the test as they try to prove that they can still compete in the business world of tech. If you're more of the sentimental type then "The Intern" might be a better pick for you, but don't count "The Internship" out as it still manages to sneak some touching moments in between the laughs of its 1 hour and 59-minute run time.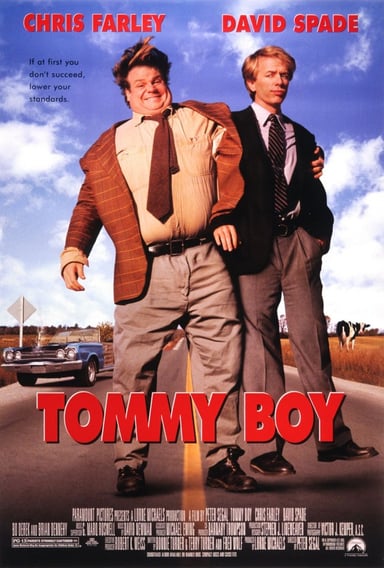 7. Tommy Boy (1995)
Comedy, Adventure - PG-13 Rating
However, the true comedic salesmen duo is Chris Farley and David Spade as they star in "Tommy Boy." After his auto-parts tycoon father dies, the overweight, underachieving son (Chris Farley) teams up with a snide accountant (David Spade) to try and save the family business. The movie follows the two as they travel the United States of America to attempt to close some much-needed sales against all odds. Filled with slap-stick humor and great chemistry between the two costars, this movie is a classic Under-Dog story that we can all relate to in some manner. Even if you are not a sales man, you'll end up rooting for Tommy as he tries to live up to his father's legacy and prove the naysayers wrong.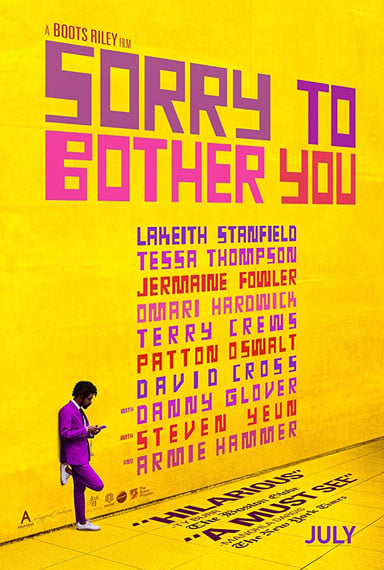 8. Sorry to Bother You (2018)
Comedy, Fantasy, Sci-Fi - R Rating
A little less known than the other entries on this list but still worth a watch. "Sorry to Bother You" is a dark twisted comedy that follows the life of a struggling telemarketer who learns that by simply changing his voice, he can become a star seller. As the 1 hour and 52-minute runtime plays on, the movie becomes darker and darker highlighting the cut-throat reality within the hierarchy of the telemarketer workplace. The ending is by all means VERY out there, and is definitely up to debate. However, the message of the movie is a powerful one and the ride to get to it is just weird enough to keep you entertained the whole way.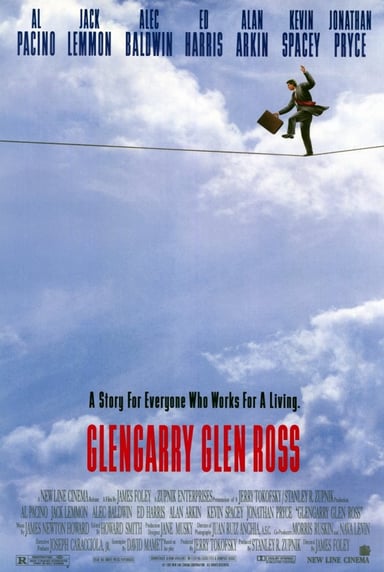 9. Glengarry Glen Ross (1992)
Crime, Drama, Mystery - R Rating
I know I said this list was in no particular order but that was a lie because I saved the best for last. Yes, it's not a comedy but boy is it entertaining, filled with heavy hitting actors and monologues that give you goosebumps. It's rude, it's crude, and it is a perfect portrayal of what it is like to try making a life in high pressure sales. Thankfully the salesmen at ICC are nothing like the cut throat sharks in this movie, played by a powerhouse cast. That being said, I definitely could cut back on the amount of caffeine I drink each day if I had Blake (Alec Baldwin) giving me his infamous pep talks each morning.
I hope you enjoyed the list, are there any movies that you think I should have mentioned? My apologies, but it won't be Hollywood without a few snubbed films. Let me know in the comments below which of your favorite office themed movies should have been on the list?
Speaking of lists, you can check out ICC's vast inventory of office supplies and business products to help you find all your office needs in one place. CLICK HERE