Have you ever had a friend who got into day trading? This is the practice of buying a stock and selling it in the same day, ideally for a slight increase in value. In practice this is much harder than it sounds. Timing the market is notoriously difficult if not impossible. Often times day traders have around a 50% win ratio on their trades. There are countless stories of day traders losing their entire portfolio value making a bet in the wrong direction.
So what does this have to do with buying stuff for your office? There is a website called camelcamelcamel that tracks the price changes in items for sale on Amazon and kicks out a chart just like a stock might have. So let's take a look at an office chair LLR86201.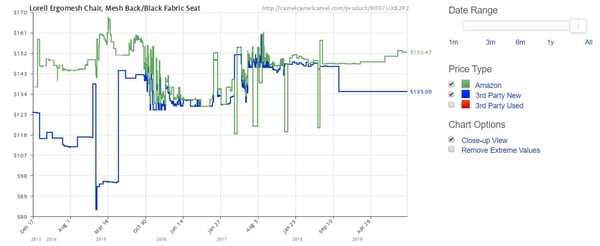 As you can see, this chair has sold as low as $90 from other companies selling on Amazon (3rd party) and as low as $116 from Amazon themselves. But at other times the chair has been as high as $161! That's almost double the cost!
So if you bought at $90, congratulations you timed the market. You bought at the right time. But if you bought at $161 you overpaid. Had you waited just another week you might have purchased it for much less.
The point of all this is that the big box retailers of the world know how to play these games. Look at Amazon. They'll drop the price for very short periods of time well below the 3rd party sellers, but that's never a long term trend. If you only intend to purchase this item once then you might just wait for a deal and take advantage, but for the items your business is buying every day, week, or month, timing the market is not going to work.
What ICC does differently is that we lock in a price on the items you purchase the most and spend the most money on utilizing tried and true principals like the Pareto Principal.
If you think your pricing is jumping around too much or you can't understand why your expenses are high some months and low others, reach out to us. We can help!
LEVEL YOUR BUSINESS UP BY GETTING A FREE NO OBLIGATION ANALYSIS.

If you would like a FREE ANALYSIS of your spend to show you the top 20% of your items that make up 80% of your spend please click HERE and fill out the request form to get one emailed directly to you.