As we head out of the Fourth of July weekend, most of us are probably still thinking of fireworks, cookouts, and the three-day weekend. However, in addition to being Independence Day, this year July 4th represented another big change worth celebrating. That change is the start of Stage 5, the last stage of Indiana Governor Eric Holcomb's "Back on Track Indiana" reopening plan. Stage 5 results in the end of most restrictions but not the end of the outbreak, if we are not mindful of the proper precautions then we might just see a return of the Stay-at-Home orders. In addition to the "Back on Track Indiana" plan, the Indiana Department of Education (IDOE) has also released 2020-2021 school year COVID-19 reentry considerations. Indiana's Considerations for Learning and Safe Schools (IN-CLASS) was developed in partnership with the Governor's office, the Indiana State Department of Health, the Indiana Family and Social Services Administration, the Indiana High School Athletic Association, and IDOE's Reentry Advisory Group, comprised of practitioners and professional organizations. The 38-page document provides recommendations to schools but does not mandate any policy changes. Instead, it details a number of measures for school leaders to consider, while leaving final decisions up to the schools. The last thing anyone wants to see is a rise in infection rates. Especially if it results in the return of closures and restrictions. A scenario that has already happened in states like Florida and Texas. That is why we have created this blog post to highlight some key items that will help keep you and your children safe as Indiana returns to the classroom.
The Front Office
Although one typically tries to avoid being sent to the front office as a student, it is still a busy spot for parents as well as students who are being checked-in or out of school. The faculty members who have the task of managing these high person-to-person contact areas are at the biggest risks. That is why I strongly recommend the use of a partition of some kind to not only protect your faculty members, but also parents or students. Some schools have always had a plastic wall between guests and their front office, but if yours does not there are still plenty of ways to make temporary dividers. If you go this route be sure to remember to include a cut-out so doctor's notes and sign-in sheets can easily be passed through. If crafts are not your thing, ICC also offers counter top barriers that are perfect for the job. They even come with pre-cut openings.
Another great thing to have at the front desk is a way for people to clean their hands before entering the building. The best way to do this is through the implementation of a freestanding sanitizing station at your front entrance. I like this idea because it is faster than actually washing your hands, so people will be encouraged to use it as they pass by without having to worry about drying their hands or having something to throw away once they are finished. In addition to hand sanitizing stations, schools should also invest in no contact thermometers. Forehead thermometers are a quick and clean way to check someone's temperature before entering the school. They also are a lot less wasteful than some of the other thermometer methods.
The New School Shopping List
Shopping for school supplies is undoubtedly a summer tradition shared by many Hoosiers, especially during the month of July. However, this year, you may need to be buying a few extra items that you won't typically consider as back to school necessities. As previously mentioned, the IN-CLASS is simply recommendations and thus it is ultimately up to your school's administration to decide its own rules and regulations. Thus, before you do any shopping you should first check your school's website to see what information or changes, they are announcing for the new school year. Some schools are making face masks/coverings mandatory for all students and staff. A trend of most retail stores, but worth noting because masks are not truly one size fits all. This is especially the case when it comes to giving a child an adult sized mask. That is why you need to be sure that you are buying facial masks specifically designed for children. Masks only work when they are worn properly. So, you need to make sure that your child's mask snuggly covers both the mouth and the nose.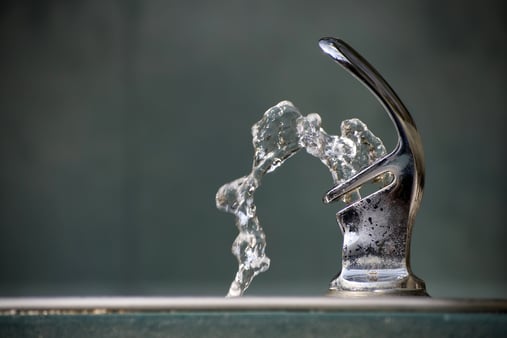 Sending your child to school with a personal bottle of hand sanitizer is another great idea when it comes to keeping healthy during the school year. However, that has always been the case whether you are fighting off diseases or just practicing good hygiene. In addition to hand sanitizer you might want to consider getting your child a personal water bottle as well. You may have not noticed but although gyms and parks have reopened, their water fountains have remained close. Seen as a hotspot for sharing bodily fluids, you can almost guarantee that school water fountains will also be closed. Thus, be sure to include one or two water bottles in your child's book bag as it may be the only source of hydration once at school.
Clear Communication
It seems cliché but clear communication will truly be needed by all parties involved in order to make the transition back into the classroom a smooth one. Not only should parents talk to their children about the importance of safe hygiene practices but specifically review the CDC's Checklist for Parents. This way you can be up to date on the information you need to know in order to take care of your child.
Additionally, Schools also should be taking extra steps to make sure that students are aware of the new procedures and guidelines for the school year. ICC has already provided numerous local businesses with signage options to help spread their messages. From sidewalk signs, to window graphics, and even banners, retail stores are making sure that their customers are informed about updated policies. This will be especially useful when it comes to creating a designated pick up spot for students sent home by the nurse. Something that the CDC and Indiana's IN-CLASS guidelines both recommend. Communication is the key to success for any scenario, but this is especially true during the ever-changing landscape of the COVID-19 outbreak.
Yes, July 4th marked the start of Stage 5 and end of restrictions, but it does not mark the end of the COVID-19 outbreak. If Hoosiers want to avoid the return of lockdown restrictions then we all will need to do our part to ensure that we carefully follow the guidelines laid out by the "Back on Track Indiana" plan. Only by staying safe and vigilant can we successfully transition back to normal without having the return of restrictions like other states. As always, if you see any items that you like, feel free to reach out to your ICC Client Support Specialist or contact us at salesdesk@iccbpi.com.
Still in the mood for reading? Check out our blog to read other interesting lists and insights into the business world. Needing to do some work of your own? ICC's online catalog has everything you need to run your business, even branding products!