As we roll into the back half of July, the concept of returning to the workplace is becoming more and more of a reality for many of America's office workers. Already companies have begun planning and testing the best way to reopen. After a 3-4-month hiatus, it is not surprising that the return to the workplace is a topic on everyone's mind. Yet as we covered in our previous blog on the topic, this will be by no means a return to "normal." In fact, just as the retail industry has fundamentally changed its stores, offices will also need to make serious changes in order to ensure the safety of their employees. The implementation of cubicle dividers, facial coverings, and even daily temperature checks may seem like easy accommodations. However, there is one big hurdle that no one seems to know how to get over. What can be done about the office coffee pot? Yes, the watering hole of the modern office. It is the most commonly shared item in the workplace and thus a high risk for the spread of infections!

Sharing is No Longer Caring
You may recall the age-old advice that "sharing is caring" besides being the slogan of the Salvation Army, these words of wisdom are something to live by! Well at least they used to be. However, in the world of COVID-19 it is safe to say that sharing is no longer caring. In fact, it is the spaces or surfaces that are shared need to be avoided if possible. Especially when it comes to the workplace. We briefly touched on how dirty an office can truly be in our blog post title "Clear the Clutter" but that mainly dealt with the germs on your own desk and keyboard. Although these can also be a hotspot for infection, they mainly only get used by one person; yourself. Shared spaces like the water cooler or coffee pot on the other hand can contaminate everyone in the office by lunchtime. A study from the University of Arizona found "that more than half of commonly touched surfaces in an office – like doorknobs, copy machine buttons, the office refrigerator – can become infected with a virus when a single person in the office is ill." The study included about 80 participants, some of whom received droplets on their hands at the start of a normal work day. While most of those droplets were plain water, one person unknowingly received a droplet containing artificial viruses mimicking the cold, the flu and a stomach bug. The researchers were surprised by just how quickly the artificial virus spread. Whether it was by direct or indirect contact, the single subject was able to "infect" over 50% of fellow coworkers in just four hours. Although this study is from back in 2013 it sheds a light on just how quickly an office can be brought down, even if only one employee is sick. Studies like this one, as well as the recommendations of health officials, have caused many companies to be wary of having breakroom facilities at all. However, the thought of an office without free coffee seems sacrilegious! Coffee is the energizer of the modern workplace and a staple across industries. So how can companies continue to provide this act of employee appreciation without risking the health of their workers?
Wake Up & Smell the Coffee
Like most things dealing with COVID-19, there seems to be some variation in the ways that companies are handling this coffee crisis. My wife's company has decided to shut down all the coffee machines in their breakrooms. Opting to require all employees to get their caffeine fixes from the cafeteria, served by the cafeteria staff instead of pouring from the pot. One might call this a little extreme but I suppose one can never be too careful when it comes to safety. It certainly allows for control of the cleanliness of the machine and limits the amount of people actually touching its surface. However, it is a method that cannot be universal. What are all the small offices supposed to do? For companies that still use the traditional filter drip brewers and coffee pot warmers these machines might just be products of yesterday. The CDC Guidelines stress the importance of reducing contact with shared surfaces whenever possible. So, the idea of everyone pouring a cup of joe from the same pot is not a very smart one. Especially if your office has a practice of washing and reusing coffee cups. Luckily self-service coffee machines are commonly available and even are compatible with a wide range of coffee brands. Pod coffee machines remove the shared aspect of the office coffee pot as each cup is packaged into individual serving sizes. When the user is done brewing, the machine can be easily sanitized and the pod can be trashed. Limiting the next user from exposure to any lingering germs.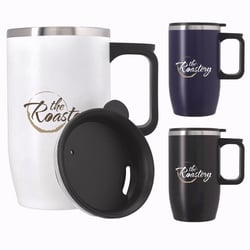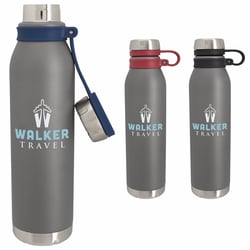 Another smart move made by some companies, is the use of personal drinkware. Whether it is for coffee or for water, it no longer makes sense for an office to have communal drinkware. That being said, employees still need to stay hydrated throughout the work day. One could argue that offering plastic bottles of water instead of a water cooler might be the safest way to avoid cross contamination. However, this can get pretty costly. A nice alternative that I have seen being used by some of our clients here in the Branding Department at ICC, involves providing employees with their own company branded drinkware. The nice thing about this, besides the obvious marketing exposure, is that they can be cleaned and reused each new day. I've seen plenty of breakroom sinks filled with dirty office mugs to know that they don't always get cleaned. However, by providing each employee with their own drinkware, there is much less of a chance of this happening. Keep in mind that no matter what you do, it needs to be paired with frequent cleaning. That's why I recommend choosing a travel mug or sports bottle with a screw off cap instead of a mouth piece. The easier something is to clean, the more likely it is that it will actually be cleaned.

As we return to the workplace, we will all need to be mindful about just how dirty an office can get. Only by staying safe and vigilant can we successfully transition back to normal without having the return of restrictions like other states. The use of hygiene products like disinfecting wipes and hand sanitizer are also important. That same University of Arizona study found that simply by implementing these safeguards, they were able to limit the risk of infection to below 10 percent. Regardless of what you are looking for you can be sure that ICC will be able to provide it. As always, feel free to reach out to your ICC Client Support Specialist or contact us at salesdesk@iccbpi.com to see all that we have to offer
Still in the mood for reading? Check out our blog to read other interesting lists and insights into the business world. Needing to do some work of your own? ICC's online catalog has everything you need to run your business, even personalized branding products!