They say you should replace your mattress every 8 years, but how often should you replace your office furniture? The easy answer to this question is not too far off from a mattress, 7 to 10 years, but if you have been following along with my blog posts you can probably guess that the real answer is never the easy one.
Yes, like most things in life, the truth is that the longevity of your office furniture can vary based on a multitude of factors; how often is it used, what materials is it made from, the list goes on. That being said, should you only replace office furniture when it's broken or doesn't work anymore?
Can't Duct Tape Fix Everything?
While working at ICC, I have had the chance to see a lot of different offices and a lot of more different types of office furniture. I am sure you've also experienced a piece of office furniture that can be best described as "Still Working." My father's home office chair is especially guilty of this title.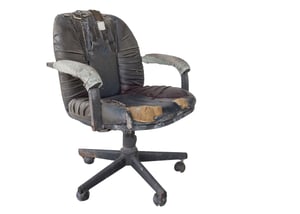 (Eek, please don't tell him I put this photo on here.)
My new chair opened my eyes to the truth that sometimes you need to replace your office furniture not because it's broken, but because it has become obsolete.
What was once a cutting-edge leather executive chair has been reduced to a fraction of its once held glory. The leather is cracking and peeling, exposing the foam cushioning that has lost its plush over the years. Although the hydraulics still work, you can hear their squeak throughout the house, calling for another helping of WD-40. Yes, my dad is a firm believer of the "Don't fix it if it's not broken" philosophy so as long as something "still works" he will never see a need to replace it. My dad may be right about some things but his office chair is one area where that is simply not the case. Don't get me wrong, I am still blown away by the presence that an old wooden desk can bring to an executive's office, but odds are one won't describe said desk as just "still works." Plus, that old wooden desk loses its allure when it is accompanied by a duct tape bound leather chair. As my father's chair proves, even the nicest office furniture wears out the more you use it. So, consider how quickly the economic models can become worn, especially when used 40 plus hours a week. Even small breaks or imperfections can build up stress over time. My first office chair at ICC was a prime example of a little damage ruining a chair that "still worked."
My first office chair was the classic office chair that you see in most offices; a cloth back with armrests and a 5-Star wheeled base. It was not the best chair but it certainly did its job so I had no complaints. That was until one day when one of my wheels snapped off as I was sliding into my chair. I'd call it a freak accident, but you can call it gravity, either way it seemed like a minor issue. I mean I still had 4 more wheels on the chair and it still supported me when I sat in it, so I brushed off the thought of getting it replaced. As the weeks passed, I began to notice that my now 4 wheeled chair had a little wobble to it. At first, the wobble only happened when my weight was primarily situated over the missing wheel. Like when I would reach for a file on the far end of my desk or lean forward to read some small text on my computer screen. By all means my chair "still worked" but it didn't truly work to its full potential. Just like my chair, I too was not working to my full potential as I was constantly distracted by the sudden feeling of falling as I wobbled in my four wheeled chair. Yet I still brushed off the notion of upgrading my chair, partly because I assumed that my chair "still worked" and partly because I assumed that my replacement would be exactly like my current chair at the time. Thus I would be bound to be in the same situation sooner or later, even with a new chair. I probably should have immediately brought this up to my boss but, to my surprise, he caught a glimpse of the missing wheel and surprised me with a new chair for my 1-year anniversary. Boy were my assumptions wrong about getting a new chair. Just like most things these days; office furniture too continually gets better. Thus, the very features that once made the high-end executive furniture of yesterday so fancy, are the same features on your economy models of today.
Time Changes All Things
Even though my boss simply gifted me the latest model of my old chair, it came equipped with a new set of improved features. My once fixed armrests suddenly became adjustable, finally allowing me to fully roll my chair underneath my desk. Something that used to be a huge pet peeve of my old chair. So much so that the arm rests had scratches from ramming into the edge of my desk. Additionally, this upgraded model came with a re-imagined back that better supported the natural curvature of my spine. A once premium option that is now very common as office furniture focuses more on ergonomic designs. It was not long before I began to feel the benefits of my upgraded chair. I wasn't just able to focus more on work but, more importantly, I also felt better physically. My new chair opened my eyes to the truth that sometimes you need to replace your office furniture not because it's broken, but because it can become obsolete.
Just like technology, style is another aspect of your office furniture that can change over time. Whether it's your lobby seating, cubicles, or even your boardroom, the furniture in your office is a part of your company's brand. This is why you see the tech companies of Silicon Valley boasting about their redesigned office spaces filled with cutting edge furniture. Take a second to look around your office and think about what story your office furniture tells. About a year or 2 ago, ICC went through an upgrade of its own. With this upgrade we not only revamped our company logo and marketing but also our office! You see even though our old furniture "still worked" it did not fit the new branding of our company, and thus it needed to be upgraded as well. Needless to say, our long-time customers were blown away when they stopped by to see the new ICC office. A reaction that would not be the same if we tried to continue using our old furniture.
It is easy to overlook the need for change, especially when what you currently use "still works." I hope that after reading this blog post, you can begin to see that when you forgo upgrading your office furniture, you also miss out on the improvements that come with it. One's budget is the deciding factor at the end of the day but you'd be surprised how far your budget can stretch as the latest technologies become an industry standard with each year's new model.
So, book an appointment with an ICC Furniture Specialist today, plan a trip to our furniture showroom, and see for yourself what the future of today has to offer.
office furniture; upgrade; old; new;